Which Honda Model is Right For You?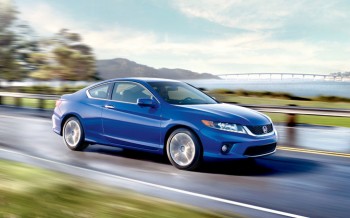 Honda makes vehicles to fit the needs of all Michigan City drivers. From the fun little 2015 Honda Fit to the family-sized 2015 Honda Pilot, you'll find something that's just right for you in our showroom here at Bosak Honda Michigan City. So which Honda is right for you? Let's take a look at the run down below to see which model will fit your needs best.
2015 Honda Fit
The Fit is small, affordable, versatile, and efficient. Thanks to the Magic Seat, this subcompact hatchback offers massive cargo space at a small price. Plus it's easy to park. Small families, first time buyers, and young drivers all love the Fit.
2015 Honda Civic
The 2015 Honda Civic is much like the Fit, offering drivers high efficiency, smart features, and fun handling. Rather than a hatchback though, it comes in sedan and coupe body styles. The Honda Civic Si is also probably the sportiest Honda model available today.
2015 Honda Accord
The flagship midsize sedan is a perfect model for drivers who want high efficiency and increased space. Good for families, couples, and individuals, the Honda Accord is available with all the latest features, and can be had in Hybrid and Coupe styles as well.
2016 Honda HR-V
The newest, smallest member of the Honda SUV family, the HR-V is a smart choice for drivers who need all-wheel capability or just a little more cargo space than a small car. It's also pint-sized outside so it's a breeze to park. Good for small active families.
2015 Honda CR-V
With smart design, plenty of versatility, and the latest safety features, the CR-V is a family favorite. You can load up all your gear and head out for a road trip with confidence. As a bonus the CR-V offers some of the highest fuel economy in the compact crossover class.
2016 Honda Pilot
The newly redesigned 2016 Honda Pilot offers more efficiency, more high tech features, and more advanced safety systems than ever. This mid-sized crossover provides seating for up to eight, so it's an excellent option for mid-sized and growing families. It's also perfect if you need to pull a trailer or move a lot of cargo.
2015 Honda Odyssey
The 2015 Honda Odyssey is the quintessential family vehicle. It even comes available with a in-car vacuum cleaner, to help with the back seat messes. The Odyssey also offers impressive fuel economy and a long list of safety features, plus seating for up to eight. All that adds up to a smart family oriented package.
Visit Bosak Honda Michigan City
You can drive all of these vehicles right now at Bosak Honda at 710 US-20 in Michigan City, IN, so come visit us today!