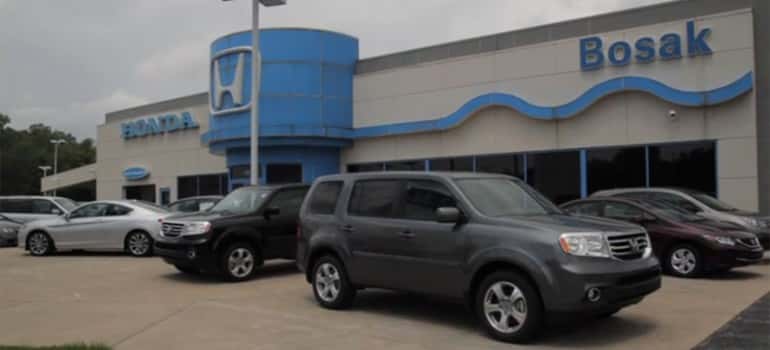 Hello Three Oaks
Bosak Honda in Michigan City Has Everything Three Oaks Drivers Need Under One Roof
Three Oaks Honda drivers looking for a dealership to take care of all their automotive needs should turn to Bosak Honda in Michigan City. At Bosak, we've got everything you could want; from our wide selection of new Honda vehicles to our fully staffed service department, you'll never need look elsewhere!
Full Selection of New Honda Models
If you're in the market for a brand new Honda, then you've come to the right place. We house the entire lineup of newest Honda cars, trucks, and SUVs. We offer your favorites such as the Accord, Civic, CR-V, Pilot, Odyssey, and others. Feel free to take any of our latest models out for a test drive.
Wide Variety of Pre-Owned Vehicles
If you just can't afford a brand new automobile right now, Bosak also has an outstanding selection of used cars available from a number of manufacturers, including Audi, BMW, Chevrolet, Chrysler, Hyundai, Jeep, Lexus, Pontiac, Toyota, and others. Be sure to also check out our special selection of vehicles with a starting price of under $10,000.
Your Vehicle is in Good Hands with Our Service Department
At your Honda dealership near Three Oaks, Michigan, we take great pride in making sure that our customers' automobiles are operating at the highest level. That's why if you ever have any problem with your car, don't hesitate to bring it in to our service department. Our professional technicians have been trained to fix any issue, from routine oil changes to major engine or transmission replacement. We make sure to get the job done right the first time so that you're back behind the wheel of your car as soon as possible. Schedule an appointment online or by giving us a call at 800-728-9825.
Visit Bosak Honda in Michigan City Today
At Bosak Honda in Michigan City, we're proud to offer our customers all of our outstanding services. Located at 710 U.S. 20 in Michigan City, we're less than 25 minutes via I-94 W from Three Oaks, Michigan. Be sure to stop by our dealership and take any of our new or pre-owned models out for a test drive or give us a call at 800-728-9825 with any questions.